Main Features
Consolytics: a unique online data consolidation platform, securing the ultimate online business experience.
Place your focus on the future and keep moving forward!
Traffic Data Consolidation
Let's manage as many online properties as you really want! Don't let your traffic analytics insights slip through the cracks. If you want to stop feeling overwhelmed monitoring your online presence, get a bird's-eye view of ALL your traffic analytics, in one place, in one moment. Consolytics.
A Single Currency
3 Online Shops in 3 Different Countries/ Currencies? Set up a default currency and get a thorough view of your e Commerce data. Consolytics supports all currencies, with hourly updates for all rates!
Predictive Analytics Models
Hungry for Future Traffic and e Commerce Predictions? We've got you covered! Consolytics makes use of 3 separate types of algorithms providing predictive analytics to keep you abreast of the times and in total control of your online presence.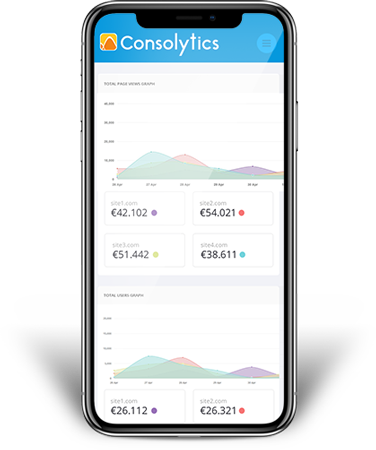 Behavioral AI and UX
We are looking after your true concerns! Enjoy an environment, tailor-made for your online business. Consolytics identifies user behavior patterns by navigating the platform, making use of preselected features, and letting you design your interface experience for your own needs.
Decision Assistance
Make smarter decisions, faster! Consult our rigorous reports and formulate better-informed decisions and strategy. Consolytics brings together all your traffic and transactions related data to enable snap decision-making with the lowest possible risk. Now, a single dashboard for all reporting!
Time Efficiency
Get the full picture of your traffic and e Commerce projects! Compare date ranges and concentrate all date-related metrics per property/ per metric, as well as all transaction/ revenue metrics per property, 90% faster than manually!